Container presents the Issue 4 Residency: Queer ec(h)o
We are at a defining moment when it comes to climate change. Its impacts are global in scope and unparalleled. United Nations Secretary-General António Guterres described the recent landmark reports on global warming as a "code red for humanity".
Climate change is going to affect every one of us, but its effect will not be the same for all. It will affect people differently on the basis of various factors, which are reliant on social responsibilities, especially cultural and social norms – often defined by gender. People who are already vulnerable and marginalised will experience the greatest impacts of climate change.
The roots of climate change are tied with the roots of multiple oppressions.
The LGBT+ community is one such marginalised group, which, because of its social vulnerability, is a hidden victim of climate change. LGBT+ individuals are uniquely vulnerable to exclusion, violence and exploitation because of the cumulative impacts of social stigma, discrimination and hatred. All of these conditions add up to them being much less equipped to face environmental catastrophes brought about by climate change. The roots of climate change are tied with the roots of multiple oppressions.
Because of this, queer liberation must be held up as a core concept of climate justice organising. The queer community has struggled for the longest time for their rights and visibility; hence they possess a strong urge to fight. To achieve safety and justice for the LGBT+ community, climate justice must be realised. And for that, queer liberation must be lifted up in movements and artistic expression that addresses environmental crises.
Queer ec(h)o, a one-man show created by Container Resident António Baía Reis, will be a live performance in virtual reality in its form and social manifesto in its essence. By combining random interactions with people in social virtual reality worlds with conceptual insights on climate change and queer justice, the author will perform in seeming artistic chaos, drawing a portrait of the affective matter of queer liberation and a planet on the verge of climate catastrophe.
The show will be performed in a VR space and will premiere on 7 December 2021.
Meet the Resident: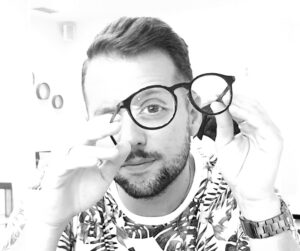 António Baía Reis is researcher, educator and artist who was born in Porto, Portugal.
His research, teaching, and creative activities are largely interdisciplinary, combining areas such as media and communication studies, theatre and performance studies, cultural studies, creativity, social change, participatory practices, sociology, innovation in education, immersive media, and new technologies.
Alongside a role as an assistant professor at the Center for Media and Communication of the University of Passau (Germany), he is also invited researcher and media artist at the Experimental Laboratory of Intermedia Art of the University of Madeira (Portugal) and AGENCY_VR – Medialab Prado (Spain).
António a media and performance artist, with a focus on live theatre and performance in virtual reality, 360-degree virtual reality filmmaking, media and performance installations, and participatory art projects. He is co-founder of XR artistic collective La Cuarta Pared VR [The Fourth Wall VR].
See more of António's work on his website: www.antoniobaiareis.com